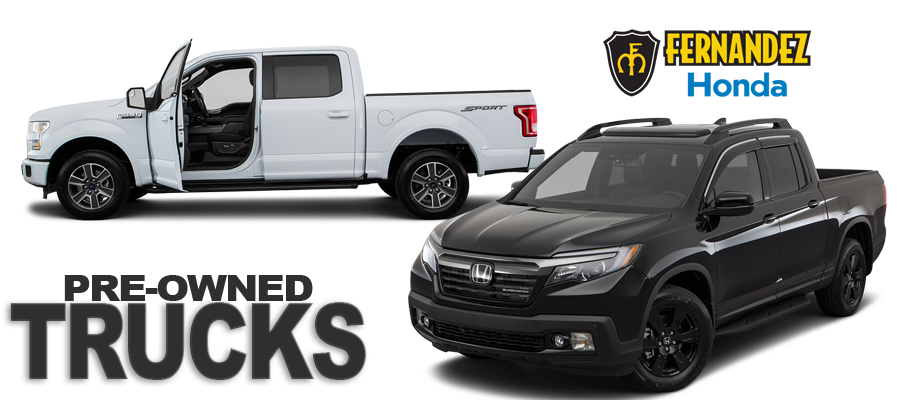 Used Trucks for Sale near San Antonio, TX
At Fernandez Honda, you can count on us to stock our selection of pre-owned vehicles with plenty of used trucks for you to choose from. Whether you're searching for a used regular cab, double cab, or crew cab truck, we've got you covered. Our inventory of pre-owned trucks gives you plenty of options, including two-door and four-door truck configurations.
Our selection of pre-owned trucks is constantly changing, with different trucks from different manufacturers always being featured. Our stock moves quickly, so if you see a used truck that catches your eye on our website, don't hesitate to contact us. Pre-owned trucks sell fast and you don't want someone else to snatch up your dream truck before you get a chance to even take it for a test drive.
Because our inventory is always changing, keep checking our website to see if we have a used truck you may be interested in. Better yet, contact us to see if we can help secure the truck you've been searching for. Our friendly team members will happily answer your questions and research the area to see if they can track down your top truck choice.
Buy Pre-Owned Trucks in Texas
Travel around the San Antonio area in style once you purchase a used truck from Fernandez Honda. Whether you need a small, two-door truck to travel to and from work or a large, four-door truck to carry your family, our dealership provides plenty of options for you.
You won't ever have to worry about purchasing a pre-owned vehicle from us. Our well-trained experts thoroughly examine each vehicle before listing. Your safety is a top priority and we make certain your vehicle has been inspected.
Truck Service & Maintenance Centers at Fernandez Honda
We all know that service is a routine part of owning any vehicle. We also all know that sometimes accidents happen. At Fernandez Honda, we want to give you ways to save by offering a variety of service specials. From oil changes to tire rotations and anything in between, our factory certified technicians will make sure your truck is in tip-top shape.
Our deals are for a limited time only, so be sure to take advantage of them today.
Stop by our location today at 8015 Interstate 35 S., San Antonio, TX 78224. Whether you're in San Antonio, Castroville, Poteet, or other surrounding areas, you'll find that our location is convenient and easy to get to. Our team is excited to help you find your dream vehicle. We look forward to seeing you soon.